Bee Hive Fireplace
A unique collection of various Spanish style adobe features brings this outdoor area into the focal point of any backyard. The Bee Hive fireplace was custom built to match the feel of this estate and the spacial dimensions. The barbecue ties in seamlessly along with the outdoor sink, counter top, refrigerator, hot plate and sitting area.
---
Tile Mosaic and Stone Wall Terrace
This custom tile mosaic stands over 6 feet tall and represents an American flag blowing in the wind. This is surrounded by a purple flagstone to enhance the pump house storing pool equipment in this customer's backyard. The wall in the background has a different variety of flagstone covering it and both are layed around diamond shaped blue tile light accents. [Note: Custom concrete for this job was poured by colleague. Reference available upon request]
Three Tiered Outdoor Fireplace with Seat Wall
This unique tri-level outdoor fireplace accents the natural landscape in this backyard and matches the flagstone layered on the patio below it. Fireplace designed to homeowners specifications along with a seat wall incorporated for comfortable outdoor use and to tie the fireplace into the stone patio.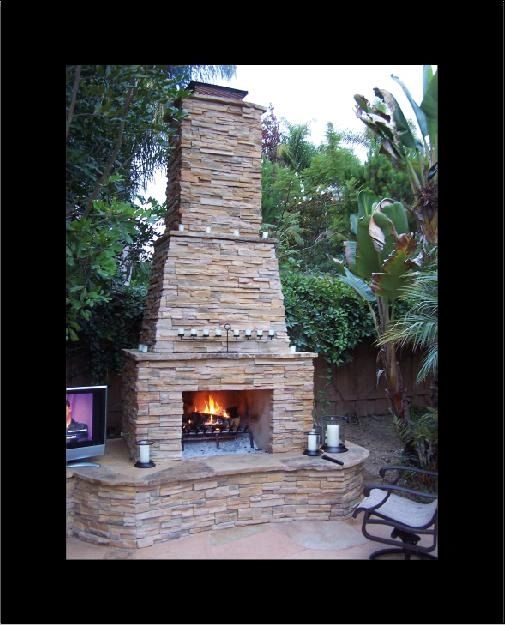 Cultured Stone Backyard Wall with Planter Box
This specially designed backyard perimeter wall incorporates a monistary courtyard feel with a contemporary flare. The tall culture stone wall helps keep the private feel in a small backyard of suburban San Diego. The bull nose top angles up to give the wall a shortened look and a cozier feel. Planter boxes built with curved edges to make the backyard seem larger and main focal point statue used to attract the eye and make the walls feel longer.
Waterfall and Pond
Amid the native oak trees in rustic Alpine, these homeowners can enjoy the sounds of falling water in this custom water feature incorporating the natural granite boulders found in this region. The beautiful flagstone patio surrounds the pond as a quaint place of relaxation.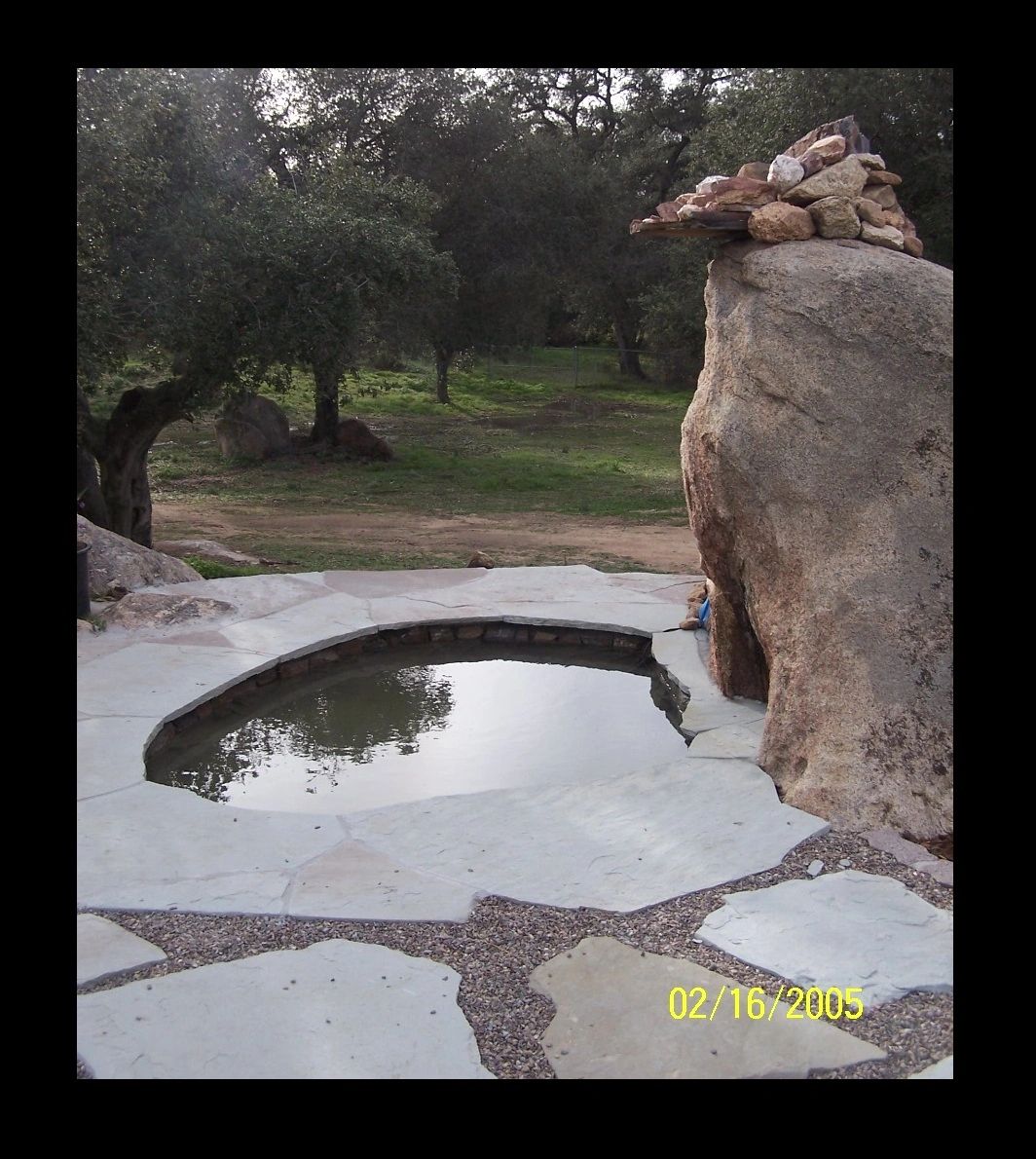 Walkway and Centerpiece
This low wateruse design incorporates drought tolerant plants, wood chips to reduce soil evaporation, and green colored gravel to mimic the looks of grass. The tree acts as a center focal piece in the front yard as the brick border ties in the flagstone and gravel pathway.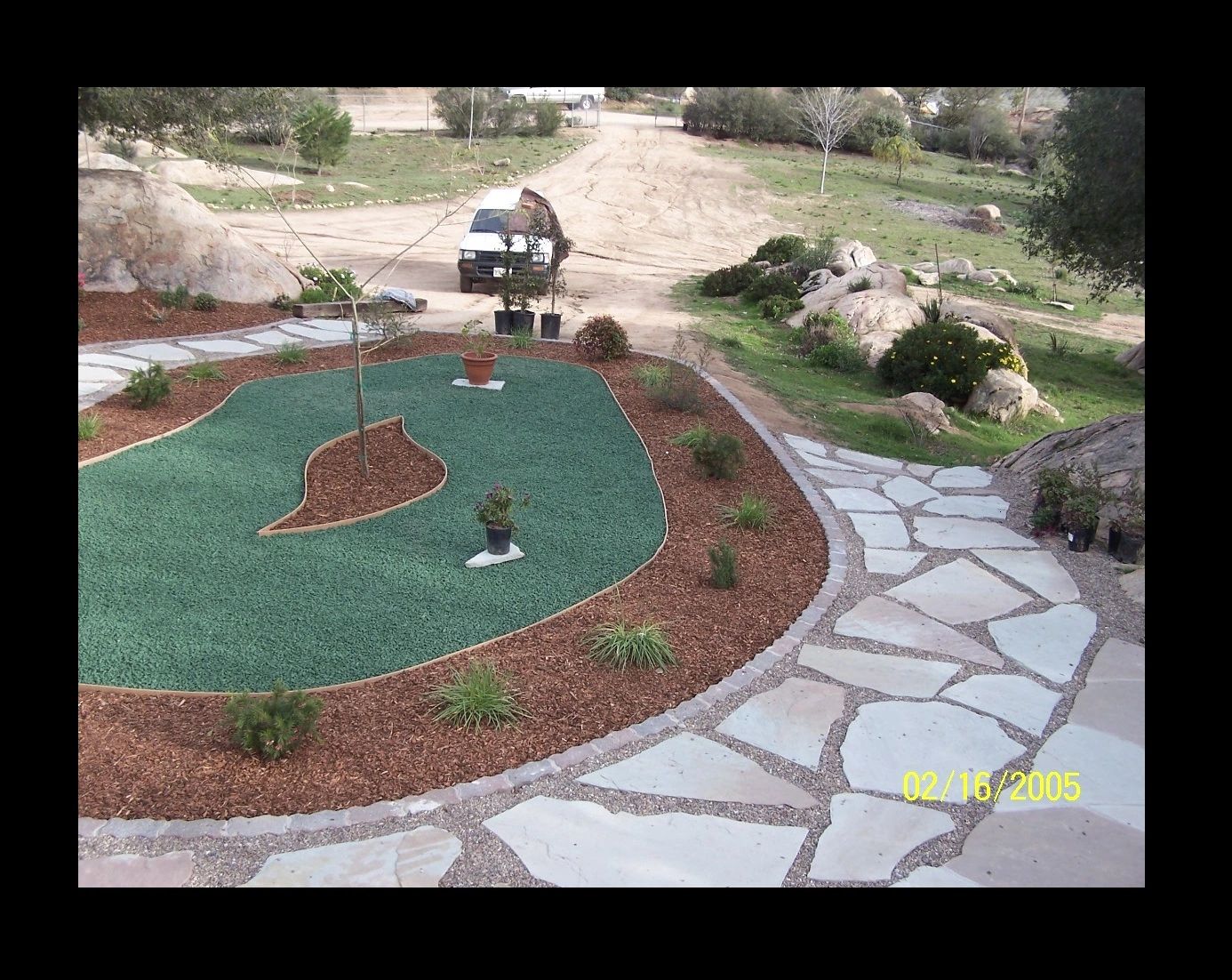 To view various material samples around San Diego County visit: